Adobe has released details of its next update to its Creative Cloud suite of software, ahead of the NAB Show in Las Vegas.
The update to Creative Cloud – which will be free to subscribers – is not slated for release until the early summer. However, Adobe is previewing a number of key features for film makers and audio producers.
Chief among the upgrades are new features to support virtual reality, including "field of view" mode for working with media from 360-degree cameras.
This support, for "stitched media", includes new preview tools within Premiere Pro, which will gain a VR mode. This allows editors to move around within the sphere using pan and tilt controls. The update also supports stereoscopic VR, either with a VR headset, or anaglyph (3D) glasses. Videos can be exported in the correct formats for YouTube and Facebook.
The upcoming release will also include a feature to allow Premiere Pro users to start editing video during ingest, potentially speeding up production, and improved proxy workflows in Premiere Pro and Media Encoder, supporting HDR, high frame rate and 8K media.
Adobe is also improving the Lumetri colour tools within Premiere Pro, and is updating the character animator and the video and audio preview in After Effects. Overall, the company claims that After Effects is now more responsive.
Sound additions
A new Essential Sound panel has been added to the sound editing and sweetening application, Audition CC, which sets out to make it easier for non-experts to mix audio. This includes options for controlling volume levels, repairing sound and improving audio quality.
As part of the update, there will also be improvements to the way Adobe Stock is integrated with the Creative Cloud suite, to make it easier for editors to locate and manage library assets.
Adobe has produced a number of quick videos for the update, including for the new VR features, as well as a general overview of the next release: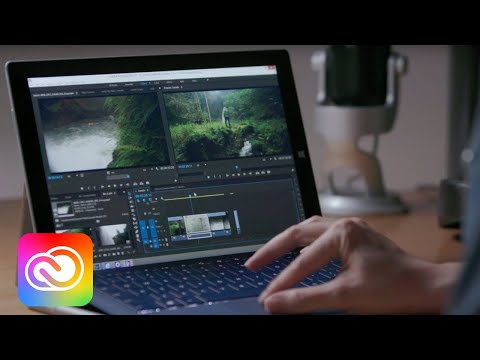 Adobe's video on VR features: